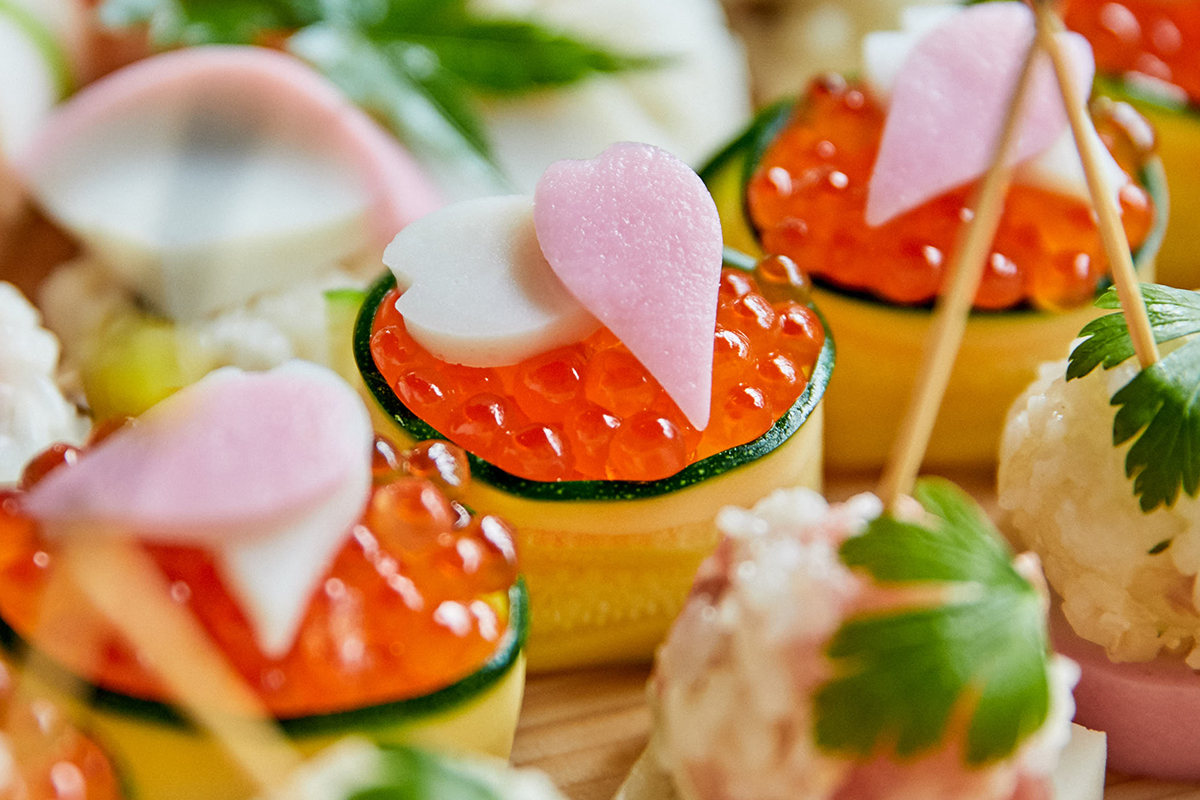 Sushi is the quintessential Japanese dish known the world over. The beauty and appeal lays in the complexity of flavors, levels of quality, and culinary artistry in such a simple idea as "fish on rice." The history of sushi is quite interesting. Originally, the word "sushi" referred to a dish of vinegared rice with different toppings, which may have included raw fish. Our common view of sushi started in the 18th century as "nigiri-sushi." Rather than the bite size pieces we are now accustomed to, the nigiri-sushi would have been the size of your hand with a large piece of fish placed on top. Sushi is now enjoyed all over the world with different interpretations and inspirations creating new and fresh pieces of cuisine. Kamaboko is also a wonderful addition to a creative sushi recipe. Chef Sawase, a kaiseki chef at Chowaro Restaurant, introduces us to some of his recent dishes featuring kamaboko.
The original article is written by Saori Bada, published as a part of Suzuhiro Kamaboko's web magazine "かまぼこのある暮らし(Live the Kamaboko lifestyle)" in Japanese.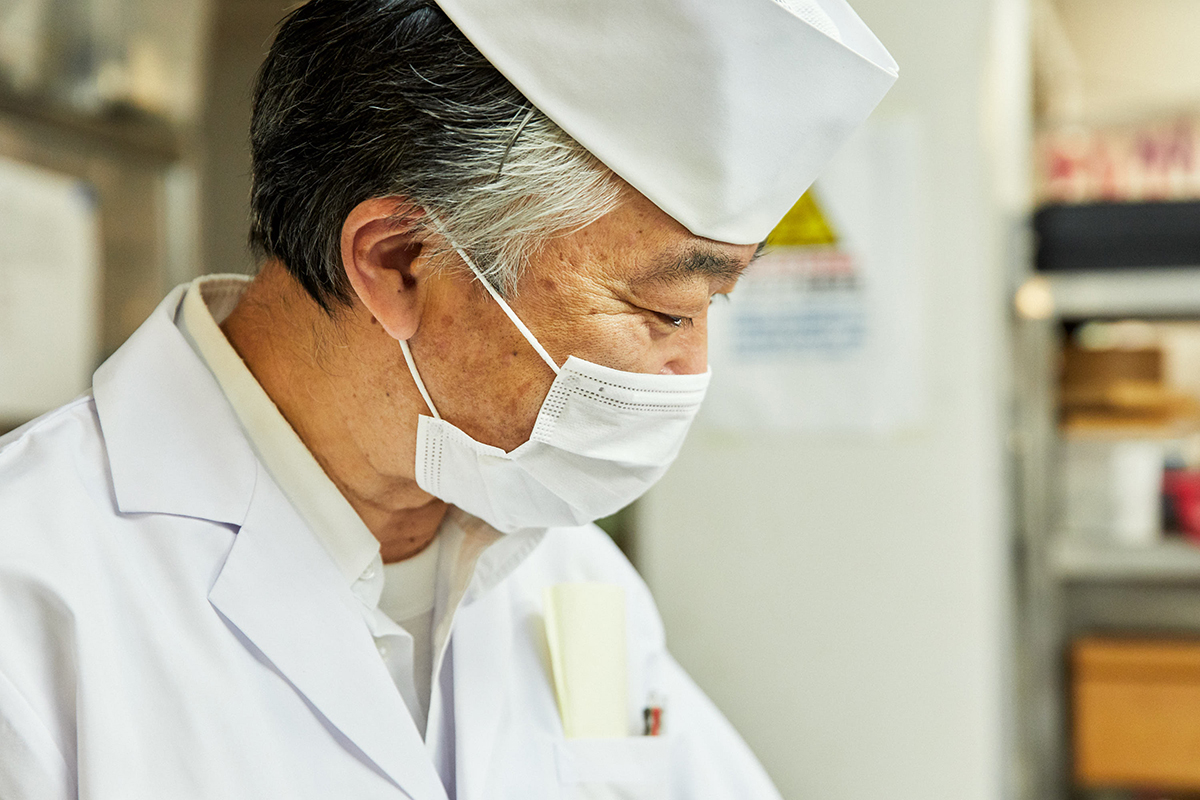 Chef Fumio Sawase is a specialist in kamaboko cuisine and has been preparing Japanese food using local ingredients from Odawara for more than 30 years with Suzuhiro's kamaboko as the centerpiece of many of his dishes. We asked Chef Sawase for some simple sushi arrangement recipes that skillfully bring out the charm of kamaboko and make it enjoyable for everyday dining.

Creating New Dishes with Kamaboko
From a chef's point of view, kamaboko is a very flexible ingredient. It's already a ready-made food, but it's also easy to use as an ingredient in cooking. First of all, it's flexible because it's firm and elastic. It can be cut into thin slices, chopped into small pieces, folded, rolled and twisted. And since it is a steamed food it can be used as is, baked, or fried. Moreover, the taste of kamaboko itself is light, making it a perfect match for a variety of ingredients. It can be lightly dressed with seasonal vegetables. Kamaboko can also be mixed with rice and other ingredients to create a broader range of flavors. It can also be accented with western ingredients, herbs, and spices to make new creative dishes. In terms of nutrition, the protein content of fish makes it easy to create a well-balanced menu. I have known about kamaboko for more than 30 years and I feel it is an excellent ingredient that should be shared with the world.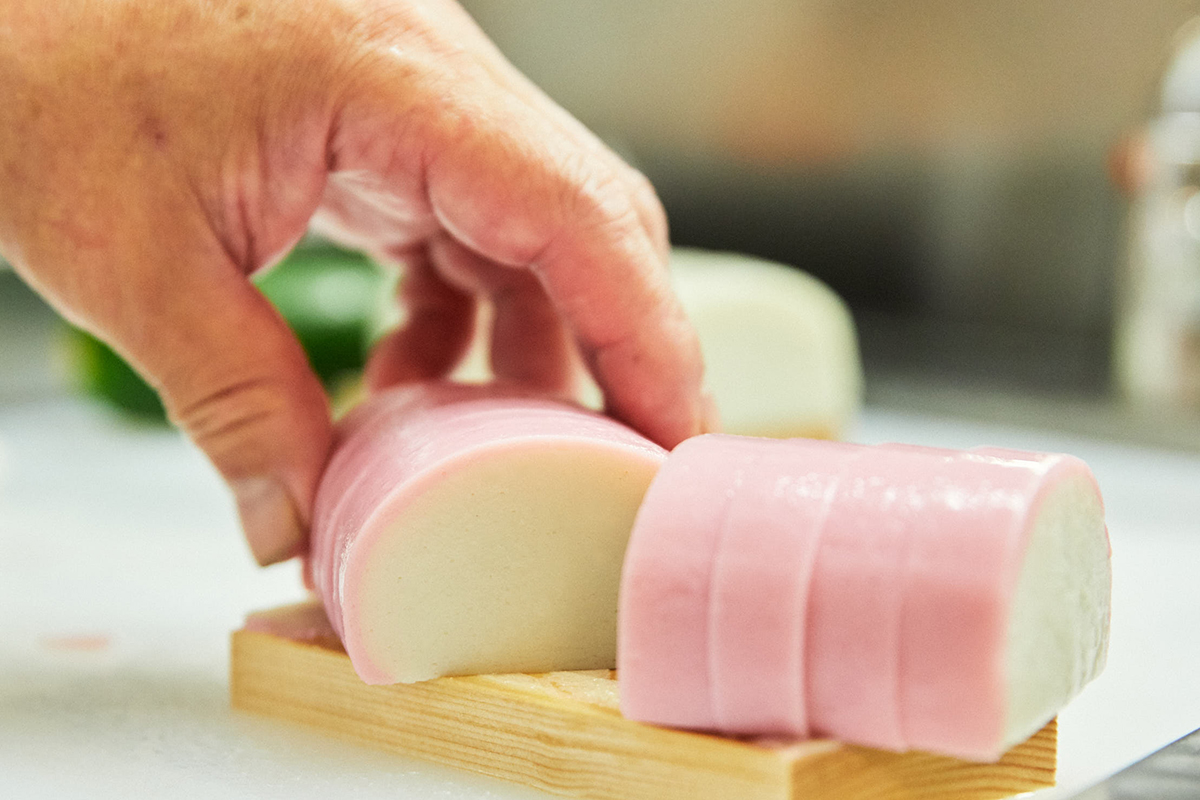 Gorgeous Inside Out Sushi Roll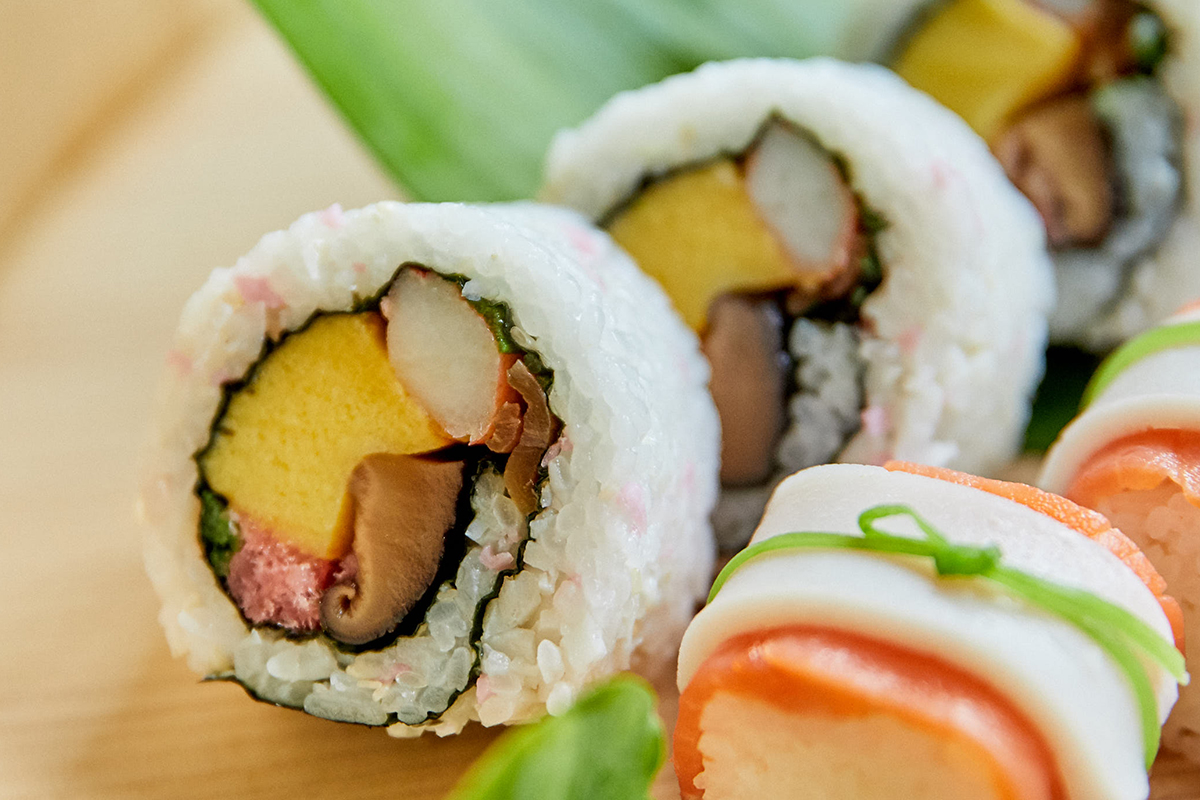 Sushi wrapped with rice mixed with pink Kamaboko as an outer layer. Adding three or more different toppings, including egg and crab meat (or even imitation crab or surimi crab ), adds a gorgeous cross-section.
Product used this time: "Tokujou Kamaboko" Pink
The "Tokujou Kamaboko" is made from raw white croaker that is ground in a stone mortar, giving it a rich and supple fish flavor and texture. It is a great way to enjoy the taste of kamaboko when used in this kamaboko sushi.
How to Make
Cut out the pink part of the kamaboko and chop it into small pieces. Mix in the sushi rice and spread it on a wrapped sushi mat. Top with nori seaweed and top with omelet type grilled egg, crab meat, sakura-denbu (a pink sweet and salty fish flake topping), shiitake mushrooms, kanpyo (gourd simmered with soy sauce, mirin, and other seasonings) and mitsuba leaves.
Red and White Salmon Sushi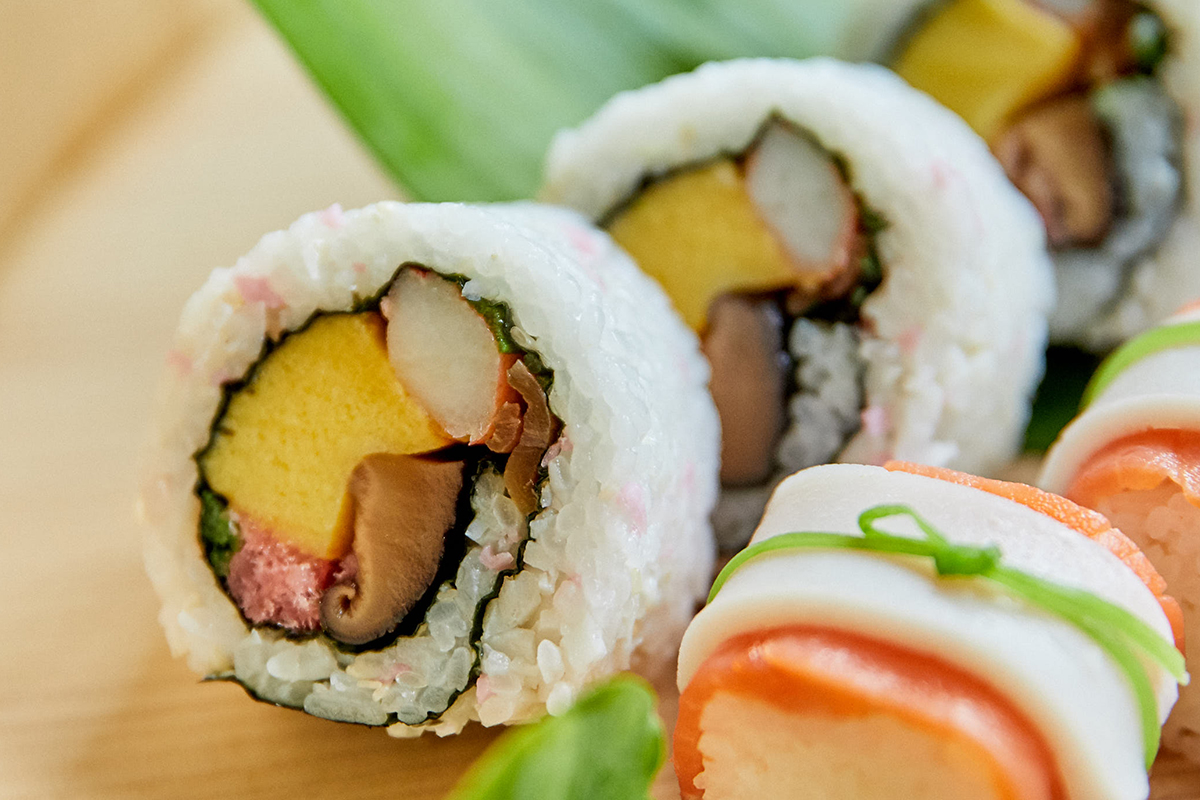 This sushi is layered with red salmon and white kamaboko to create a festive red and white atmosphere.The colors of red and white are used for celebratory ceremonies in Japan like graduations and special events. Slice the kamaboko into thin slices to make it easier to wrap the sushi rice.
Product used this time: "Tokujou Kamaboko" White
How to Make
Shape the sushi rice into small squares, wrap them in rectangular pieces of salmon, and wrap them in a layer of thinly sliced white kamaboko. Accent with a bow of boiled mitsuba stem.

Rice Sandwich Sushi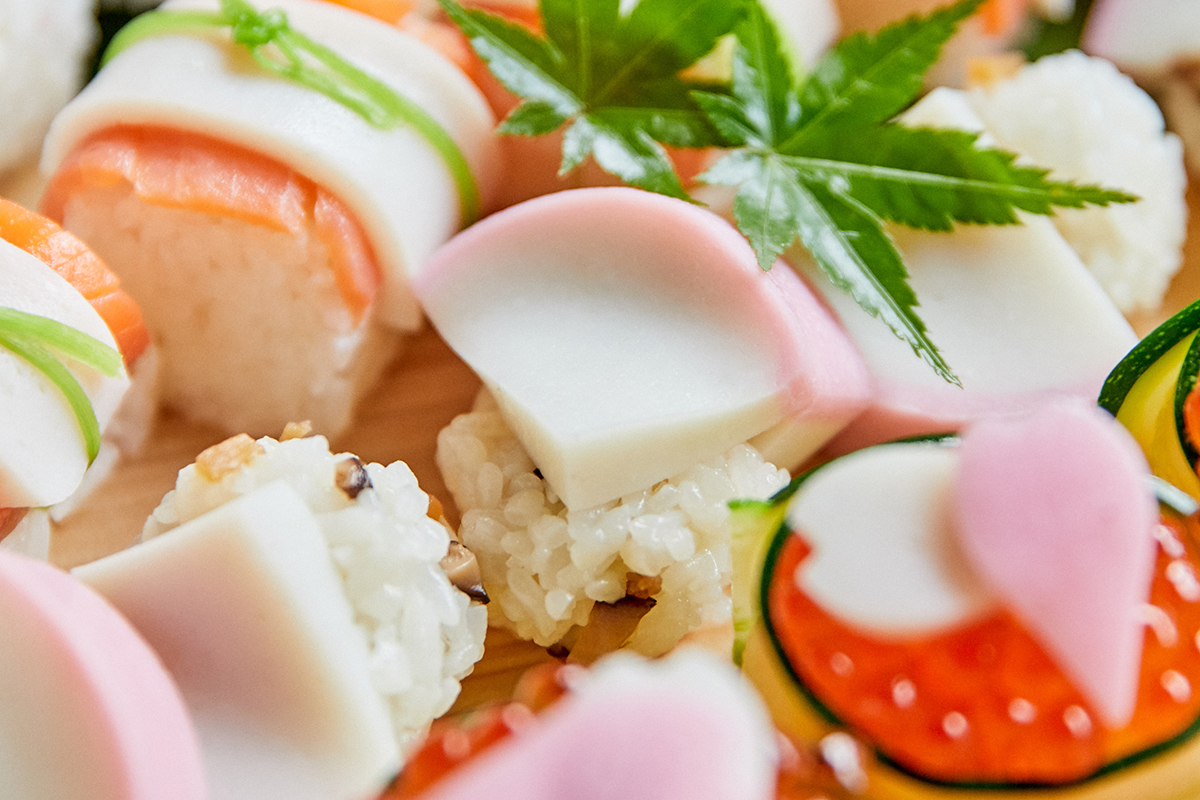 A simple arrangement of sandwiching sushi rice between thin slices of kamaboko. A slightly sweet and savory rice goes well with kamaboko in this dish.
Product used this time: "Tokujou Kamaboko" Pink
How to Make
Mix the shiitake mushrooms and kanpyo (gourd) simmered with soy sauce, mirin, and other seasonings with the sushi rice (sushi rice differs from normal steamed rice in that it is accented with sushi vinegar, salt, and sugar). Cut the kamaboko into 2 cm thick, quartered shapes. Cut a slit in the middle of the sliced kamaboko and insert the sushi rice between them. Use pink kamaboko to create a nice red-white contrast.
Marinated Salmon Roe and Kamaboko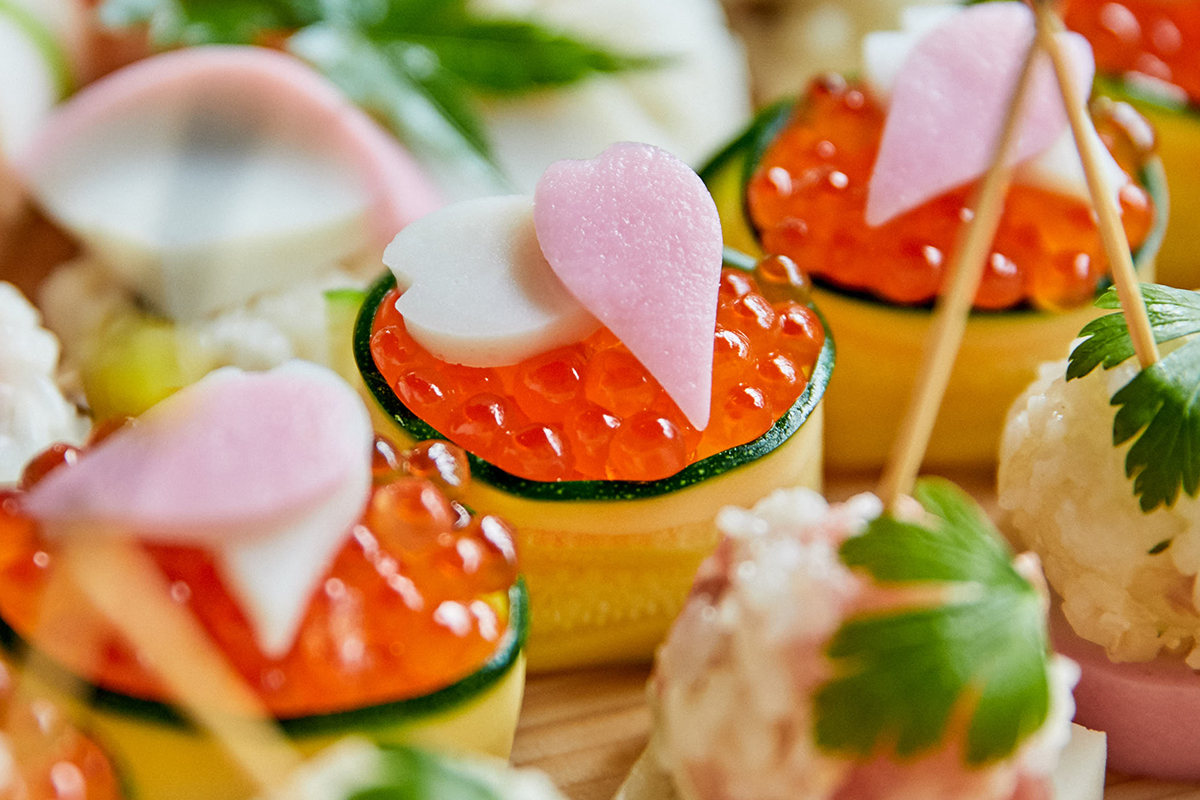 The green curled zucchini and the red salmon roe (ikura) make this dish look welcoming and refreshing. Garnish with pink and white kamaboko.
Product used this time: "Tokujou Kamaboko" pink and white
How to Make
Slice the lightly boiled zucchini into very thin slices and wrap them around the bite-sized ball of sushi rice. Top with wasabi, salmon roe, and pink and white kamaboko cut out in the shape of flower petals.

Kamaboko Plate with 2 kinds of Temari Sushi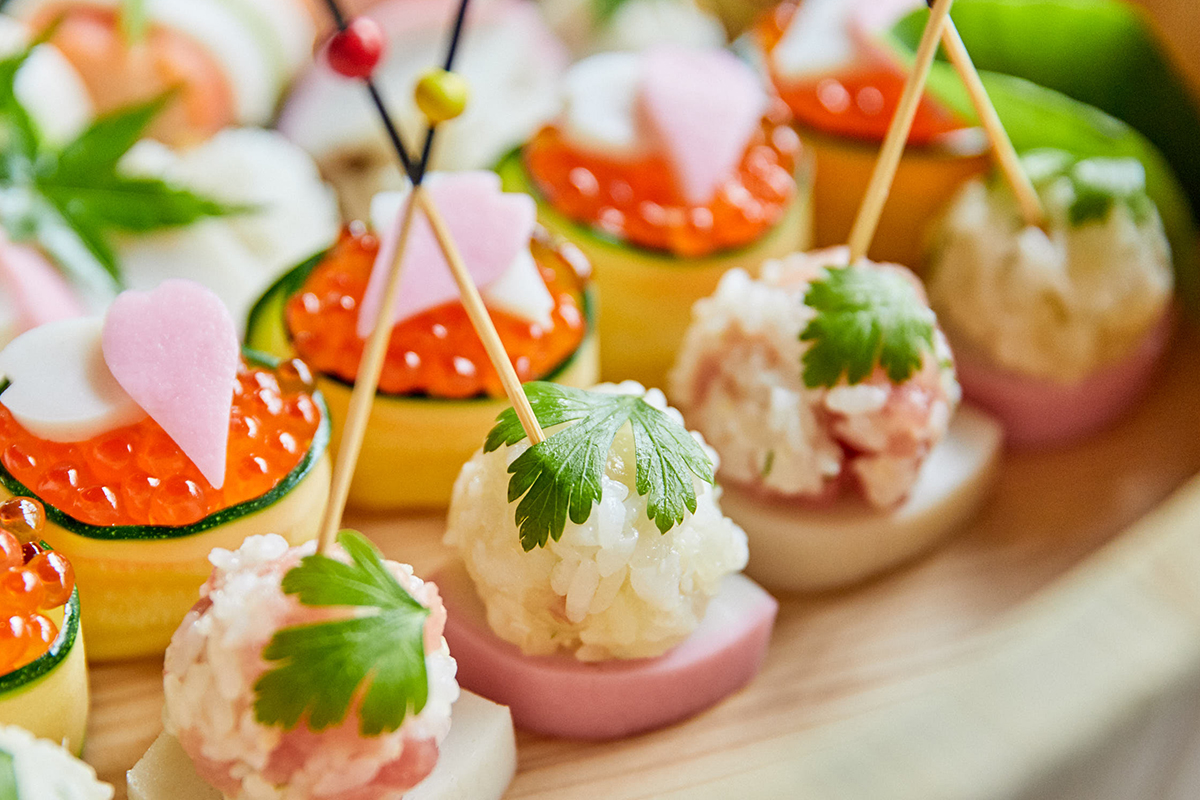 Temari literally means "hand ball" in Japanese and this recipe uses the small bite sized servings of rice as its namesake. This is a temari sushi combining ingredients from East and West by using vinegared rice and olive oil. The use of alternating pink and white kamaboko for the base gives it a subtle and gorgeous look.
Product used this time: "Tokujou Kamaboko" Pink and White
How to Make
Add wasabi, white roasted sesame seeds, and olive oil to the sushi rice. Add finely chopped tuna to half of the sushi rice, and top the other half with kombu marinated flatfish (hirame) sashimi , forming a temari. Top the pink kamaboko with the tuna, the white kamaboko with the flatfish and garnish with Italian parsley.
text by Saori Baba / Photos by Hiyori Ikai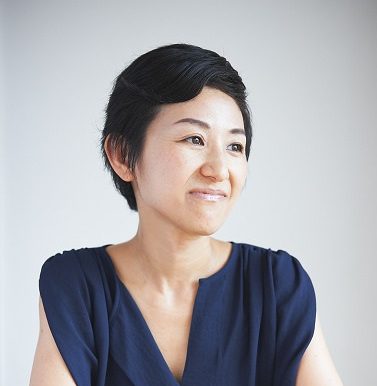 She is an editor and Portuguese food researcher. In addition to working as an editor and writer for cooking magazines and other publications, she runs a Portuguese cooking class at home, and is currently writing a series of articles on the web titled "Portugal Shokudo" (Portuguese Restaurant), which introduces Portuguese cuisine that goes well with alcoholic drinks, on website named "cakes".
Her latest book is called "Muitobon!". She is also the author of many books, including "A Trip to Eat in Portugal" (Sangyo Editing Center).
http://badasaori.blogspot.com/